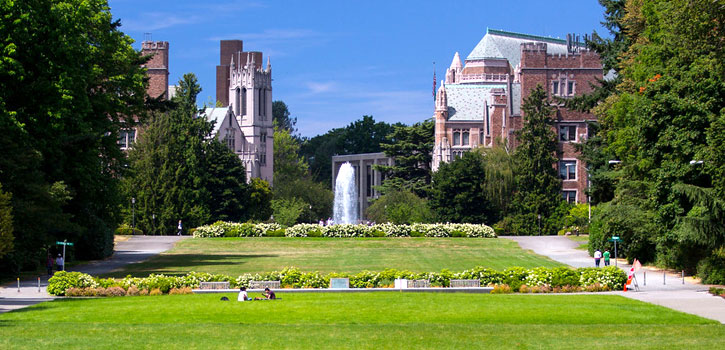 Our internship program provides intensive training in psychology under the auspices of the University's School of Medicine. The program involves three medical centers: The University of Washington Medical Center, Harborview Medical Center, and Seattle Children's Hospital and their affiliated programs and clinics. Administrative oversight for the internship program is provided by the Department of Psychiatry and Behavioral Sciences.
The Internship program operates within a very active research context which offers an especially stimulating environment for psychology residents who are considering clinically relevant academic and/or research careers. The Internship program has a membership in the Academy of Psychological Clinical Science, which is associated with the American Psychological Society. The Academy of Psychological Clinical Science is a coalition of training programs that share a common goal of producing and applying scientific knowledge to the assessment, understanding, and amelioration of human problems. The University of Washington School of Medicine ranks first among all public universities in the amount of federal research funds received.
Our psychology resident selection process is weighted strongly toward applicants whose training, experience, and academic accomplishments indicate potential for both clinical and research excellence. Candidates from professional school programs are rarely competitive in our selection process. Successful applicants typically show evidence of scientific contribution, such as publications, presentations, and research activity. They also demonstrate evidence of a high degree of clinical competence and experience in assessment and therapy. We especially welcome applicants who have a combination of excellent clinical skills, strong research interests and potential, and well-developed interpersonal and communication skills that will allow them to flourish in a multidisciplinary environment. Our goal is to provide the highest quality training for residents in a supportive and stimulating academic medical center environment.
We utilize a scientist-practitioner training model, and we offer a generalist training program. Our generalist training has emphasis training tracks in adult psychology, child psychology, autism, behavioral medicine, and rehabilitation neuropsychology. More information about these specialized tracks can be found on our Track and Rotation pages: General Adult, Autism and Development Disabilities, Behavioral Medicine, General Child, and Rehabilitation Neuropsychology. Our training sites include a variety of medical settings including psychiatric inpatient and outpatient settings.
Internship Program Offerings
Assessment
Training is offered in the assessment of behavioral, cognitive, social, and psycho-physiological factors related to behavioral disorders, medical and neurological illness, and normal functioning. More specialized training experiences in neuropsychological evaluation can be pursued.
Intervention
Supervised experience with a wide variety of therapeutic interventions that may involve individuals, families, or groups with an emphasis on empirically supported treatments are available.
Consultation
Opportunities exist to develop the consultative and communication skills needed for doing professional work in interdisciplinary health care settings.
Behavioral Medicine
Training opportunities are offered in rehabilitation psychology, neuropsychology, primary care, and consultation-liaison with medical-surgical inpatient and outpatient services.
Research
Research activity is very strongly encouraged. Opportunities are provided to increase sophistication in the design and performance of clinical research, usually by collaborating on ongoing faculty projects. Independent projects can be pursued with faculty support.
Grant Writing and Career Development Seminar
An interdisciplinary research training series of seminars providing didactic and experiential training in grant writing skills under the mentorship of faculty members is open to all psychology residents.
Education
A year long series of required didactic presentations and journal clubs are offered. Special seminars and tutorials may be arranged. In addition, a spectrum of scheduled courses, colloquia, grand rounds, workshops, and conferences are available throughout the University.
Diversity Training
Diversity advancement is a strong priority for the program. Diversity issues are integrated into didactic, clinical and research training, and there is a committee devoted to advancing diversity issues within the internship. Many internship rotation sites provide opportunities to work with diverse populations, with many immigrant and minority groups represented. The Behavioral Medicine Track has been funded by a Graduate Psychology Education grant aimed at improving training in behavioral medicine for underserved populations. Three rotations were added where residents work with a variety of diverse and underserved patients. As one measure of this diversity of clientele, the UW affiliated medical center interpreter services provides interpreters for over 80 languages.