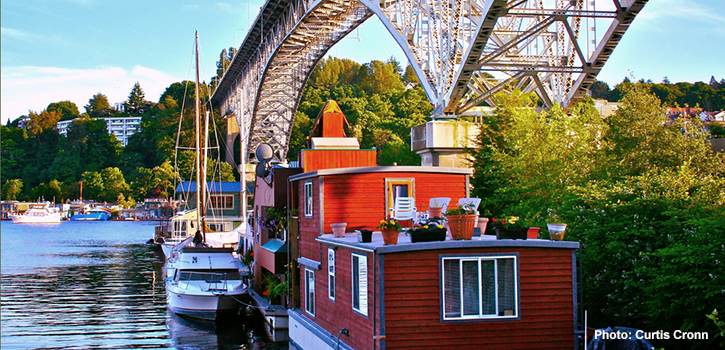 Located on Puget Sound and surrounded by water and mountains, Seattle is a vibrant and scenic city offering a wide range of cultural and recreational activities and an active urban lifestyle. The Seattle metropolitan area is home to over 2 million people and is known for its variety of residential neighborhoods, each with its own unique character. In short, Seattle is a wonderful place to live and work!
University of Washington Medical Center
Welcome to Life in Seattle
Climate
Seattle enjoys a mild climate throughout the year, with what essentially appears to be two seasons, summer and other. The area is a temperate rainforest climate and remains green all year around. All humor aside and despite its reputation, Seattle has a lower annual rainfall that Boston, New York, Chicago, Houston, or Washington DC.
Winter
Winter remains temperate with average high temperatures of 47 degrees in November through February. Lately our days of snow on the ground total just about a week but it is variable. Yes, it does drizzle and there are gray skies through much of winter but though it may be gray and wet, there will be green grass under your feet most of the time.
Spring and Fall
Seattle's spring and fall seasons are anybody's guess. Days can be like summer, like winter, or anywhere in between. Our temperate climate means that the crocuses and cherry trees will start to bloom in February and warmer days will occur with frequency until summer.
It's not unheard of to get a light snow/freeze in April and a balmy week in February. You just never know.
Summer
Summer features an average high temperature of 72 degrees between June and August though many people would say the real summer spans July through September. Summer is spectacular and it's true, the bluest skies you've ever seen are in Seattle. The temperature rarely rises above 85 degrees, most of the time it's in the 70s; sunny and gloriously green wherever you look. By the end of June, daylight lasts until nearly 10pm and you'll see that people here find that making it through the Seattle winter was worth it!
Arts and Entertainment
There are many cultural activities in the Seattle area including but not limited to:
Live music
Film
Theater
Dance
Ballet
Opera
Museums
Art galleries
To learn more about Seattle's diverse Cultural Heritage check out the Visit Seattle website.
Sports
Seattle has a very active outdoor lifestyle that includes sitting in the rain at a UW Husky game to kayaking on Lake Washington on a bright sunny day.
Individual and Group Activities and Outdoor Recreation
Hiking and Backpacking
Skiing
Bicycling
Kayaking, canoeing, and sailing
Walking
Parks
Ferries to the Olympic Peninsula
Rock Climbing
Team Sports
UW Husky Athletics
Seahawks football
Mariners baseball
Sounders soccer
Storm basketball
Roller Derby
Activities
What do residents do for fun? Here are some of the things our alumni enjoyed while here.
Visit Alki Beach
Exploring the Ballard Locks
Bike Cougar Mountain, Mercer Island, or the Burke Gilman trail, which runs through the UW Seattle campus
Make friends with a boat owner. There are several marinas around the area including Shilshole and Lake Washington
Go camping
Canoe Greenlake or Lake Washington. You can rent a canoe or kayak at the UW Waterfront Activities Center.
Take Circus classes as SANCA
Go rock climbing either at a climbing facility or in the foothills of the Cascades
See live music, it runs the gamut. For a schedule of entertainment around Seattle, the local bi-weekly newspaper (the only still in paper), The Stranger, will help you find something to enjoy.
Go crabbing
Dancing (salsa, belly, you name it)
Dinner parties with your fellow residents and new friends
Take a ferry to Bainbridge or the San Juan Islands, or even Victoria BC (passport required)
Garden or visit some of hte many formal gardens around town including the Washington Park Arboretum.
Join Seattle Opera's Bravo Club
Showshoe the Nisqually Glacier at Mt. Rainier, the Cascades, or in the Olympics
Ski at Steven's Pass, the Summit at Snoqualmie, Crystal Mountain, Mt. Baker, or Whistler (B.C.)
Square dance at the Tractor Tavern